Product Search Information Pay save and easy:
Hello ! Welcome to Rock-Gear,
the specialist online shop for instruments, music-, studio- and DJ- equipment.

Benefit from our low priced products, the huge assortment and the fast shipping.

Our music passionated team likes to answer your questions and helps you to find the right equipment.
Week's Special
VOVOX Link Protect A patch cable 30cm
high end patch cabel with right angled plugs
Long-running Hits
Chandler Limited Germanium Drive
intense colored germanium tone and up to 37dB boost

Dunlop System 65 Guitar Maintenance Set
cleaning and care set for stringed instruments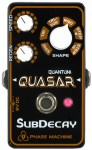 Subdecay Quantum Quasar
unique and versatile phaser pedal

Jensen Electric Lightning C 10/50 EL
10" guitar speaker with well balanced tone

Dunlop Ultex Hetfield Black Fang Picks Tin Box
James Hetfield signature picks in a tin box

Fender 150 E-Guitar strings
Pure Nickel wound strings

Jam Pedals Tube Dreamer 88
two vintage overdrive effects in one pedal
Just arrived!
Categories
Distortion / Overdrive / Fuzz
Okko Diablo Gain+
overdrive with two gain settings
Tags