Product Details
Denon DN-HP1000
Art.No.:
DEN.05.02.0012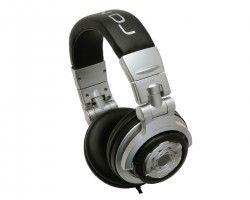 The "must have" DJ headphone.
No ratings.
Vendor
Denon
Category:
Headphones
expected delivery time: 3 - 6 days
Denon DN-HP1000
Denon DJ delivers a premium product with sound quality, style and performance that will surely make it the "must have" DJ headphone worldwide.
The DN-HP1000 features an impeccably clean vibrant sound that will withstand the demands of high volume, while maintaining its sonic characteristics. We did not forget about comfort, style and reliability either. Soft padded ear cups able to swivel a full 180 degrees with dual-pivot action design, conform to all head sizes. The headphones are housed in a beautiful metallic silver color shell and branded with the Denon DJ logo etched in both stainless steel cups. With fidelity, style, reliability and comfort, this should be your only pair of DJ headphones.
Features:
53mm Speaker Driver
180 degree Swivel for Full Pivot Action
Folding Design for Easy Transport and Storage
Leather Pouch Included
Tags
[!] Price Alert
We are happy to inform you about a price change of this product respectively when it hits the price you want to purchase.
Write Product Review
Current product
Denon DN-HP1000
expected delivery time: 3 - 6 days
The "must have" DJ headphone.